This post is dedicated to some basic products that we need for our makeup. I will show you what products I use before doing my makeup and the products I use for my everyday or evening makeup. About two years ago I went to a makeup school for two months to learn for myself some basic rules. From there I have almost all my makeup products( Revecen, Atelier), that are professional and  paraben free.
[RO] Vreau să vă vorbesc în această postare despre toate produsele pe care le folosesc eu înainte de machiaj si despre cele folosite pentru machiajul meu de fiecare zi si de seară. Aproximativ doi ani în urmă am mers la o scoală profesională de makeup ca să învăț pentru mine unele reguli de bază în machiaj. De acolo mi-am procurat uneltele( pensulele) pentru machiaj si produsele ( Revecen, Atelier) care sunt profesionale si cel mai important nu conțin parabeni.
So, before doing my makeup, I use some products to clean my face and then some creams to moisturize it. This is an important thing to do before putting makeup on.
RO Deci, înainte de a mă machia, folosesc unele produse pentru curățirea feței, iar apoi o cremă pentru hidratarea pielii feței. Este o regulă, care trebuie respectată, mai ales de persoanele cu piele problematică.
The one product for cleaning my face that I absolutely love and will never quit using is this Clinique liquid facial soap. Next to him you can see the Artdeco organic cream, that I use for moisturizing my skin.
RO Unul din produsele cu care îmi curăț pielea feței în fiecare zi si pe care îl ador, este acest săpun lichid de la Clinique. Crema de alături este una organică de la Artdeco, pe care o folosesc pentru hidratarea pielii pe noapte sau înainte de machiaj.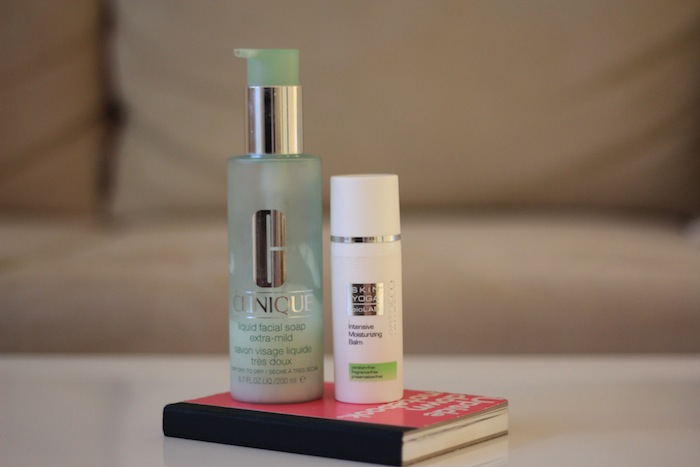 These are two products from Premier that I absolutely love. Cleaning lotion, that I use for taking off my makeup and moisturizing cream that makes my skin very soft.
RO Aceste două produse sunt de la Premier. Lăptisorul, care este foarte moale si plăcut, este folosit pentru a mă demachia, iar crema pentru hidratarea pielii.
I also love the products from Body Shop, that have lots of vitamines and are good for young skin. You can see here a face cream, that I use only during winter and two organic smoothing eye cream, that are perfect for a young age.
RO Îmi plac foarte mult si produsele de la Body Shop. De aia mi-am procurat de la ei o cremă de față, care o folosesc doar iarna, pentru că are o consistență grasă si două creme organice pentru ameliorarea cearcănelor si a ridurilor începătoare.
For a deep cleaning before or for removing makeup I use Garnier Pure lotion. During day or summer for moisturizing I use Loreal Hydrafresh cream.
RO Pentru o curățire profundă a feței înainte de machiaj, eu folosesc loțiunea de la Garnier Pure. Pentru hidratarea pielii în timpul zilei sau pe timp de vară folosesc crema Loreal Hydrafresh, care îmi împrospătează pielea.
The important thing is that it doesn't matter what products you use to clean and mouisturize your face skin before makeup, as long as you do it. Now I want to show you the foundations, powders and other products I use for my makeup.
RO Acestea sunt produsele, pe care le folosesc eu pentru pregătirea pielii înainte de machiaj. Desgur că nu le folosesc pe toate odată. Folosesc ori săpunul lichid ori o loțiune pentru curățirea pielii si una din creme pentru hidratarea ei. Pînă la urmă nu contează ce produse folosiți pentru pregătirea pielii de machiaj, atîta timp cît folosiți ceva. Acum vreau să vă prezint fondurile de ten, pudrele si alte produse, pe care le folosesc pentru a mă machia.
Makeup tools.
RO Pensulele.
From left to right: Revecen makeup base, used when my face is red or sun burned, two Revecen foundations that I mostly use for my evening makeup, Borjois and Loreal foundation that I use for my everyday makeup because they have a thinner consistency. You can also see two foundations from Atelier that have a thick consistency, which are used for hiding spots.
RO De la stîng la dreapta: Revecen bază de machiaj, pe care o folosesc cînd am pete rosii  sau cînd mă înrosesc pe față de la prea mult stat în soare, două fonduri de ten Revecen-folosite mai mult pentru machiajul de seară, fond de ten de la Borjois si Loreal-folosite pentru machiajul de zi datorită consistenței fine, doua fonduri de ten de la Atelier folosite pentru astuparea petelor sau a acneei.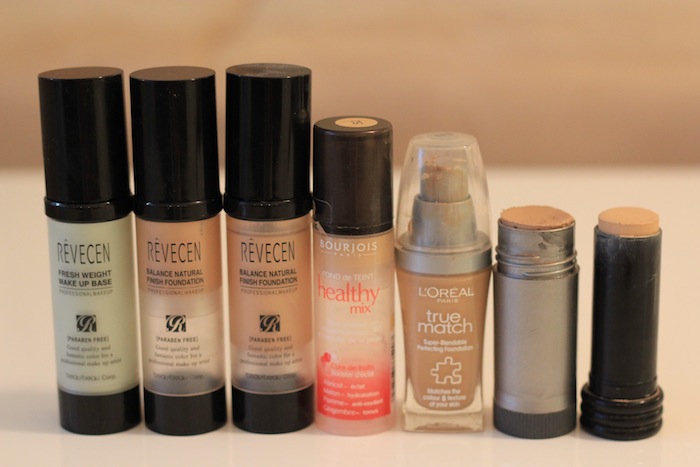 These are two products used for hiding the dark circles under the eyes. One is from Revecen, another from Borjois.
RO Aceste sunt două produse folosite pentru astuparea cearcănelor. Unul este de la Revecen, altul de la Borjois.
As for powders I love the ones from Revecen, Kryolan, but most of all the Loreal true match one.
RO Din pudre le folosesc pe cele de la Revecen, Kryolan, dar cel mai mult le folosesc pe cele de la Loreal true match.
When it comes to blushes I definitely love the ones from Loreal, especially nr.15. You can see in the photo blushes and tanning powders from Pupa, Loreal and Oriflame.
RO Cînd merge vorba de blush-uri, aleg mereu pe cele de la Loreal, în special nr. 15. În poză puteți vedea blush-uri si pudre bronzante de la Loreal, Pupa si Oriflame.
I don't actually use colors for my eyes, but in case I would ever want to, I bought lots of colors.
RO Nu prea folosesc farduri  colorate pentru peloape, însă oricum am o mulțime de culori.
When it comes to mascara, I deifnitely use Loreal Volume Million Lashes.
RO Cînd merge vorba de rimel, nu schimb pe nimic rimelul de la Loreal Volume Million Lashes.
Before applying my lipstick, I always use a pencil that is the same color as the lipstick.
RO Înainte de a aplica un ruj, folosesc un creion, care este de aceeasi culoare sau aproximativ ca rujul.
If you can't afford too many pencils, than you better buy one that has almost the same color as your lips. I have two of them.
RO Dacă nu vă permiteți mai multe creionae, atunci procurațivă unul care este aproximativ de aceeasi culoare cu buzele voastre. Eu am două din acestea.
And I definitely love lipsticks.
RO Îmi plac la nebunie rujurile colorate si îndrăznețe.
In case you don't want or need so many colors, you can purchase a case with five different colors from Atelier.
RO În caz că nu vreți sau nu aveți posibilitate să vă luați o mulțime de rujuri, există o alternativă pe care ne-o oferă Atelier. Un case care are cinci rujuri de diferite culori.
P.S. I promise I will do a makeup tutorial soon.
Promit că degrabă vă fac si o lectie de machiaj.
Comments